Sumy Islamic Cultural Centre
Islamic Centre of Sumy is situated almost in downtown, which makes it very convenient to attend; and at the same time in a quiet place, which makes it easy to concentrate on the lessons, or on worshiping God at the Centre's mosque.
Sumy ICC offers the following facilities at your service:
— prayers hall (mosque) with a capacity of 200 people (5 prayers are held daily according to local prayers schedule);
— library with various data storage devices in Russian and Arabic (numerous literature, CDs, audiotapes and VHD on Islam and Oriental Culture);
— Sunday School of Arabic Language and Oriental culture;
— Women's Department;
— Classrooms;
— Ping-pong;
— Hall for happy and mourning occasions.
One can also hold the ceremony of nikah (religious marriage), janazah prayer (funeral prayer), cering.
Organisations situated at the Centre:
— AUASO "Alraid" Regional office;
— Social Organisation "Islamic Cultural Centre".
Schedule of the regular events at the ICC:
Friday
1 PM (summer time) — Friday preaching and prayer begins.
Saturday, Sunday
Sunday School of Arabic Language And Oriental Culture (check the schedule with the School's secretary),
lessons of Qur'an, Basics of Islam and Arabic for children and adults.
Address: 24/2 Sumsko-Kyivskykh Devizii (SKD) Str, Sumy
tеl.: +38 093 754-76-90; +38 050 654-00-82 (Mr.Rustam Khusnutdinov, Imam )
Е-mail:
Find us on GoogleMaps:
News of Sumy ICC: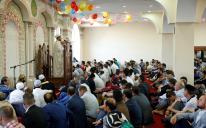 Today the doors of Islamic centers "Alraid" were wide open: Muslims were in a hurry to make the morning Eid prayer, to congratulate the coreligionists on the blessed Eid al-Fitr (Eid al-...
>>>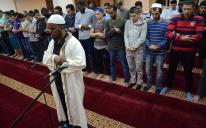 Ramadan is a period of revival of the spiritual life among Muslims. Believers spend more time in worship, put their mind to the Qur'an's verses and signs of the Most High, attend mosque...
>>>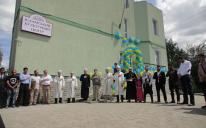 Sumy Islamic Cultural Centre (located at Sumsko-Kyivskykh dyvizii St., 24/2) has become the tenth regional centre of AUASO "Alraid" in Ukraine. Muslims had the important reason to open it...
>>>
Pages