Our history
"Alraid" went a long way from a small group of enthusiasts in 1997 to 20 organisations in many regions of Ukraine; from an interregional institution to All-Ukrainian Association.
This level playing field, along with certain centralization with each of the member-organisations' preserved autonomy became the firm ground for effective coordination, and at the same time, for effective and independent grassroots decision-making. Many successfully implemented project for the benefit of not only Ukrainian Muslims, but the Ukrainian society in general, depict this long, effective and fruitful cooperation.
Implementing the elective principle of appointing management and monitoring institutions, both Head of the Association and members of the Executive Board are elected by secret ballot at General Assembly of the member-organisations.
Heads of the Association:
Muadh Abu Obeida (1997-1999)
Farook Ashur (2000-2005)
Ismail Kady (2005 – 2012)
Bassil mareei (2013 – 2016)
Seyran Aryfov (since early 2017)
Behind us lie many year of fruitful cooperation with Federation of Islamic Organisations of Europe (FIOE) where we are one of the founder-members, International Centre "Al-Wasatiyyah" in Kuwait, Forum of European Muslim Youth and Student Organisations (FEMYSO), International Islamic Forum of Student Organisations (IIFSO), OSCE/ ODIHR, IOM, UNHCR, UNDP,  European Centre for Minority Issues (ECMI), European Youth Parliament, and our German adherents from MuslimeHelfen Fund.
Both "Alraid" and its members received various awards and certificates of gratitude from the Governing Institutions, social and religious organisations for our input in strengthening peace and cohesion in Ukraine, initiating and participating in social projects, promoting universal human values of kindness, mercy, tolerance and justice, humanism, healthy lifestyles and inclusive development of youth.
Related Materials: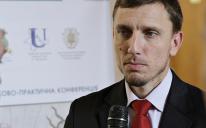 All-Ukrainian Association "Alraid" started the previous year of 2017 with the regular election of the Head, the Executive Committee and the Review Board.
Seyran Aryfov shares how his...
>>>